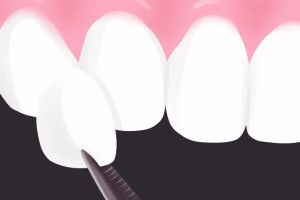 Are you embarrassed of your smile? Do you avoid social situations simply because you know that your smile isn't going to make a good first impression? If your smile isn't as bright as you would like for it to be and you've tried a variety of dental treatments to achieve a brilliant white smile, only to be disappointed by the end results, then you may be a good candidate for dental veneers. Dental Veneers are shells of materials that are colored to match the natural shade of a white tooth which are placed over your existing teeth using a permanent adhesive. They mimic the look and feel of real teeth, giving you a smile that you can be proud of again.
Which types of dental issues are fixed with dental veneers?
Unlike teeth whitening treatments, which typically just treat stained or discolored teeth, dental veneers remedy a variety of cosmetic dentistry issues. Cracked, chipped or broken teeth can be fixed with dental veneers, as well as gaps in teeth, given that the dental veneers will help to lessen the space between individual teeth. Teeth that are discolored from overuse of fluoride or tetracycline can also be helped with dental veneers. In addition, teeth that are worn down, misaligned or shaped irregularly can benefit from dental veneers as well. Dental veneers can give you the white smile you've been waiting for instantly, and even add strength to your teeth. An added perk is that they are stain-resistant, so you won't have to worry about frequent whitening treatments or losing the brilliance of your new white smile.

Schedule a Free Consultation


How do I get dental veneers?
The first step to getting dental veneers is to call our office to schedule an appointment. We can fix any existing dental problems that cannot be remedied by dental veneers and can tell you if this particular treatment is right for you. Dr. Schoening will then make a mold of your teeth and send the impression off to the laboratory so that your new dental veneers will properly fit your teeth. Once the veneers are sent back to our office, which will usually take about 1 to 2 weeks, we will then place the dental veneers on your teeth to make sure that they are a good match. They will trim the dental veneers and shape them to fit your teeth. A bit of enamel must then be removed from your teeth in order for them to be prepped for the veneers (a local anesthetic will be used to numb you for this portion of the treatment). Once all of this has been done, the cement, which is tinted to provide a natural match for your complexion, will be applied and a special light will be used to bond the cement to your teeth.
If you feel that you may be a good candidate for dental veneers, please call (817) 275-4355 or email us today to schedule your consultation with Pecan Park Dental. You shouldn't have to go without a brilliant white smile any longer. Our friendly and trained staff can help you smile with confidence.