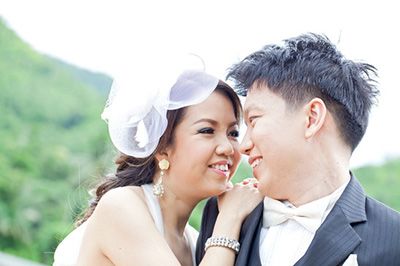 For many brides, the idea that there smile isn't all it should be typically doesn't cross their minds until it's too late. With the stress of planning the special event, picking out the dress and even making decisions about the reception menu, many brides forget about the fact that ensuring they have a great smile should be included on their ever growing to do list. Given that you will be forever reminded of your smile in wedding photos, you'll want for it to be as picture perfect as possible. If your wedding is quickly approaching and your smile simply isn't what you hoped it would be on your big day, Dr. Amy Schoening and her team can help you to look your best with a smile makeover.
What issues can a Wedding smile makeover correct?
There are a variety of dental issues that a wedding smile makeover can remedy. From cracked teeth to improper spacing, a wedding smile makeover can correct virtually any problem that is keeping you from having a great smile on your special day. Uneven, stained and missing teeth can all be fixed with a smile makeover, as well as improper bites. Pecan Park Dental utilizes state of the art cosmetic dentistry techniques to provide each of her patients with smiles that they can be proud of, and can brighten your wedding day smile as well.
What treatments are used during a smile makeover?
Veneers, Invisalign, dental implants, Lumineers, and shaping techniques are all common treatments that are used during a wedding smile makeover. Each bride has their own particular dental issues, so each dental treatment plan will differ, depending upon your own personal needs. Dr. Amy Schoening will begin the wedding smile makeover with a consultation, whereby she will go over what steps will need to be taken in order to achieve your best smile.
How soon before the wedding should I get a smile makeover?
Dental maintenance for your wedding day should be scheduled well advance, in order to avoid any last minute procedures or treatments. Issues such as improper spacing or disproportionate teeth should be handled well before the special occasion, while treatments like veneers or whitening can be carried out just a few weeks prior. It's typically a good idea to schedule an appointment to visit a dentist as soon as possible, so that they can develop a smile makeover plan that will give you the perfect smile for your perfect day.
Why is a wedding smile makeover the ideal choice?
Most brides dream of their wedding days from a very early age. They often pick out the dress years in advance and have an idea of how they are going to look on their exciting day, but few brides consider the fact that your smile is an important part of your appearance at your wedding. Given that it is a happy occasion, you will probably be smiling quite a bit throughout, and you'll want to put forth your very best smile. A wedding smile makeover is a quick and cost efficient way to make your smile glow, and to perfectly show your groom just how joyful you are about the idea of starting your new life together.
Call (817) 275-4355 or email us to get started with your wedding smile makeover today and put your best smile forward on your wedding day.