Dental Exam in Arlington, Texas
Even though paying a visit to your dentist isn't typically something that people enjoy, ensuring that you have a regular dental exam to diagnose and prevent any issues is an important part of keeping your teeth healthy and your smile bright. Dr. Amy Schoening provides each of her patients with thorough dental exams that address any dental problems that they might have and strives to make the process as easy as possible for the patient. Dr. Schoening understands that some patients may be a bit more apprehensive than others during the in office exam. So, if you've been avoiding visiting the dentist for some time and aren't quite sure just how a dental exam can be of any benefit to you, then please take a moment to read through our brief guide to dental exams. You can also read some great information on Mouth Healthy. It's a website brought to you by the American Dental Association.
What can I expect during a dental exam?
An exam will evaluate your oral health and hygiene. An exam also evaluates your bite and assesses your risk of developing bone disease or gum disease. Dental issues, such as root and tooth decay, and stains or deposits on your teeth will also be evaluated. The hygienist will remove any stains or build up and will typically take an x-ray of your teeth if they feel that it is needed. Should the hygienist find any issue with your current oral hygiene habits, they will instruct you on how to properly brush and floss your teeth and ensure that you are getting the proper amount of fluoride through your diet or tooth care products. Your dentist will also suggest future dental treatments to remedy certain issues during a dental exam.
Why do I need a dental exam?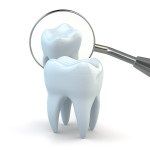 It's recommended that you have a dental exam about every 6 months, in order to give your teeth and gums their best chance at being healthy and functional. Avoiding dental exams will only exacerbate any current dental issues that you may already have or cause new problems, in that you will not be receiving the preventative care that you need to have proper oral hygiene. Though patients who no longer have their natural teeth may assume that they no longer need to have a regular dental exam, that is not the case. Even those who have dentures or partials should visit their dentists on a bi-annual basis to ensure that their oral hygiene is still up to par and that their dentures or partials still fit adequately. A dental exam is also an ideal time to ask your dentist any questions you may have about your teeth or gums, and a great opportunity to learn about any new products or techniques that can improve your smile or the health of your mouth.
Please call (817) 275-4355 or email us today to schedule your consultation with Pecan Park Dental. Having proper oral hygiene and taking care of any dental problems that may arise can be frightening for some patients. Dr. Amy Schoening and her caring staff take the stress and anxiety out of dental exams, and can help you to keep your smile looking bright.