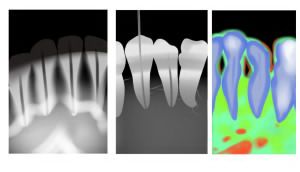 Gone are the days of old fashioned X-Rays that relied upon radiation exposure to take a closer look at the state of your oral health. Digital X-Rays are an advancement in dental technology that make it easier, faster and safer for your dentist to examine your teeth in depth and create an effective dental treatment plan. Dr. Amy Schoening utilizes Digital X-Rays in her office to provide her patients with an accurate picture of their dental issues, while making it safer and more comfortable do so. If you would like to know more about digital x-rays, please take a moment to read through the questions and answers below.
What are the advantages of Digital X-Rays?
There are a myriad of reasons why getting a digital x-ray is a better option when compared to film based x-rays. Firstly, they are safer, as the radiation that you are exposed to with traditional x-rays is reduced by 90% with digital x-rays. They also minimize the need for toxic chemical use in the dentist's office, as the digital x-ray process does not require caustic chemicals. Secondly, the x-ray process is completed much quicker with a digital x-ray. Your x-ray images can be viewed right away. The diagnostics are also much more advanced, which means that your dental problems can be identified sooner and fixed before extensive tooth decay occurs. And, lastly, the digital x-ray process enables records and duplicates to be made rapidly, for insurance or in office purposes.
Another advantage of digital x-rays that is worth mentioning is the fact that you will have a better understanding of your overall dental health and can discuss any issues with your dentist in depth. With traditional x-rays, there was not an opportunity to view the x-rays with your dentist as the images were being captured and hear their opinions and recommendations regarding the future course of action. Digital x-rays, essentially, open up the communication between dentist and patient, which can be beneficial to both parties.
How do Digital X-Rays work?
A miniature camera is placed inside your mouth, where it instantly records images of your teeth and gums, giving the dentist an immediate view of possible areas of concern. The structure of your tooth, the tooth root and the bone surrounding your tooth are all examined during the digital x-ray process. You and your dentist can then discuss your dental issues and set up a treatment plan which can remedy those issues in future appointments. The entire x-ray process takes much less time than traditional film based x-rays, making it ideal for those on the go who still want to maintain proper oral health and preventative care.
Please call (817) 275-4355 or email us today to schedule your appointment with Dr. Amy Schoening. She and her friendly staff are more than happy to answer any questions that you may have and can help you to identify and remedy your dental issues in a professional yet comfortable setting.