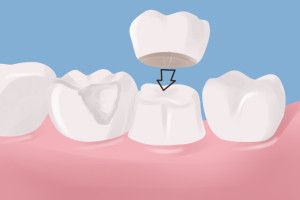 A great many of us put off going to the dentist for one reason or another. It may be simply because we feel that we don't have the time to do so or that we don't believe that our particular dental problems warrant a trip to the dentist. If you have a broken tooth or one that is showing signs of decay, take care of the problem as soon as possible, and make an appointment to see your dentist immediately. Dr. Schoening and her friendly staff provide an office environment that is both professional and comfortable. Please take a moment to read through the following information about dental crowns, and to find out how Pecan Park Dental can help you to have a bright, pain free smile once more.
What issues can dental crowns fix?
There are actually a variety of dental issues that can be repaired using dental crowns. Dental crowns can protect a tooth that has been weakened from decay to prevent it from breaking. They can also hold a broken tooth together and restore teeth that have been worn down from use. Dental crowns have an aesthetic purpose as well in that they can be utilized to cover up a dental implant and teeth that are not properly shaped or are discolored. In addition to all of these dental solutions, dental crowns may be used to support fillings in cases where there is not much left of the tooth itself. There are some instances where dental crowns can also be helpful when trying to keep a dental bridges firmly in place.
What is the process for getting dental crowns?
Before your dentist can provide you with your dental crown, they must first take x-rays and examine your teeth to determine the extent of the damage. If they find that there is extensive damage to the tooth they may choose to do a root canal or build up on the structure of the tooth using filling material if little is left of the tooth. Your dentist will numb the tooth prior to preparing the tooth for the crown by filing down its chewing surface (the amount which is removed all depends upon which type of crown is going to be used). The next step is taking an impression of the tooth and the surrounding area, which will be sent away to the lab in order to make the actual crown. The dentist will put a temporary dental crown in place while the crown is being made, to prevent any further damage being done to the tooth. You will then go in for a second visit, where the dentist will put the permanent dental crown in place using a dental cement.
What is a temporary dental crown and does it require special care?
While your temporary dental crown is in place, it's important that you do not eat any particularly sticky foods, such as gum or caramel, and especially hard foods. You will also want to avoid using the side of your mouth where the temporary crown has been placed as much as possible, and will want to use caution when flossing your teeth.
If you have any of the dental issues listed above, it's important that you take care of them as soon as possible in order to avoid further harm being done to the affected tooth. Please call (817) 275-4355 or email us today to schedule your consultation with Pecan Park Dental.