Full Mouth Reconstruction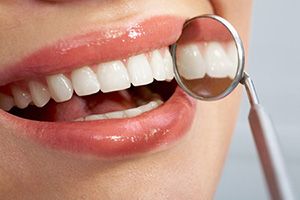 If you've been hoping for a smile that makes a great first impression, but have extensive dental issues that are preventing you from looking and feeling your very best, then a full mouth reconstruction may be an ideal cosmetic dentistry solution. Pecan Park Dental can help you to get that wonderful smile that you've been waiting for via full mouth reconstruction.
What dental issues can a full mouth reconstruction remedy?
Full mouth reconstructions can assist those who have lost teeth due to decay, teeth that have been fractured, as well as teeth that have been eroded due to long term exposure to acidic foods. If your bite is causing other health issues, such as jaw pain or headaches, then a full mouth reconstruction may be suggested by your dentist as well, especially if you have numerous cosmetic dentistry problems that need to be addressed to alleviate the pain. In addition, teeth that have been worn down due to excessive tooth grinding may also benefit from a full mouth reconstruction.
What is the full mouth reconstruction process?
Your dentist will first thoroughly examine your teeth, gums and jaw. Typically an x-ray will be conducted as well as impressions of your upper and lower jaw, impressions of your teeth and a model will be made of your overall bite. In regards to your teeth, a variety of dental treatments may be recommended, such as veneers, in addition to a number of other procedures. If your gum tissues are unhealthy, your hygienist may treat your gums by root planing or scaling them. This will treat any existing periodontal disease given that your gums will need to provide a strong foundation for your the dental work that is going to be carried out during the full mouth reconstruction. The color, size and shape of your teeth will also be taken into consideration, as well as your facial structure, in order to determine what steps will need to be taken during the full mouth reconstruction process.
What Procedures are involved in a full mouth reconstruction?
The full mouth reconstruction process typically involves multiple procedures and is carried out over a period of several months. Crown lengthening, teeth cleaning, replacement of temporary dental restorations, contouring of gum tissue, orthodontics, and implant replacement are all procedures that may be recommended by your dentist to provide you with the smile that you have been hoping for. The replacement of any missing teeth using bridges, orthognathic surgery for proper jaw positioning, soft tissue grafting and preparation of the tooth structure for placement of crowns and veneers all also examples of common procedures that are involved in full mouth reconstructions.
To learn more about how a full mouth reconstruction can enable you to have the bright, white smile that you've been waiting for please call or email us today to schedule your appointment with Dr. Schoening.